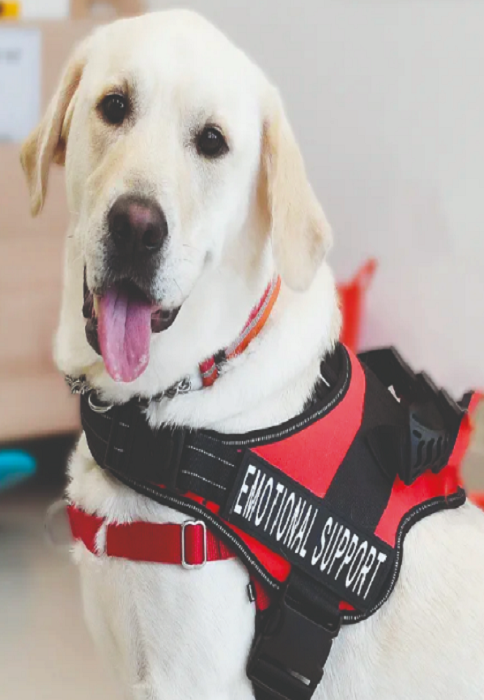 Lotus
Emotional Support Animal
Hi my name is Lotus van der Walt.
I am a friendly Labrador Retriever with a very gentle and loving demeanour. I love providing affection, comfort and support to everyone I meet, especially those who may be finding it more difficult to regulate emotions and feelings. My greatest mission in life is to make people happy and thoroughly enjoy interacting with anyone who has a few minutes to stop by for a quick scratch.
I ensure I have a good work life balance and start and end my day with morning cuddles from my humans and either playing with some of my toys, going for long walks, running in the desert, having a good story read to me or playing fetch with my football.
I am joining the Inclusion Hub as the Emotional Support Animal and will be at school to provide support to students and adults. Emotional support dogs can be a critical component in supporting many with their health and well-being, even more so now with all the changes in the world occurring around us. Emotional support dogs are not trained to do specific tasks, like pressing an alert button when they sense their diabetic companion's blood sugar is dangerously low.
Emotional support dogs serve a simple, yet extremely important purpose: to provide comfort to those who need it. Whether I stays close by to you so I'm available for petting and cuddling, or simply stay close to provide companionship and comfort, I am here to offer valuable emotional support.
I am part of Emay van der Walt's family - an Inclusion Specialist teacher who has been part of the GEMS Metropole Community since 2015 and who will be overseeing my support program and providing the opportunities for me to continue with my Emotional Support Animal studies.
I am very excited to share my love and kindness at GEMS Metropole and I cannot wait to meet everyone.