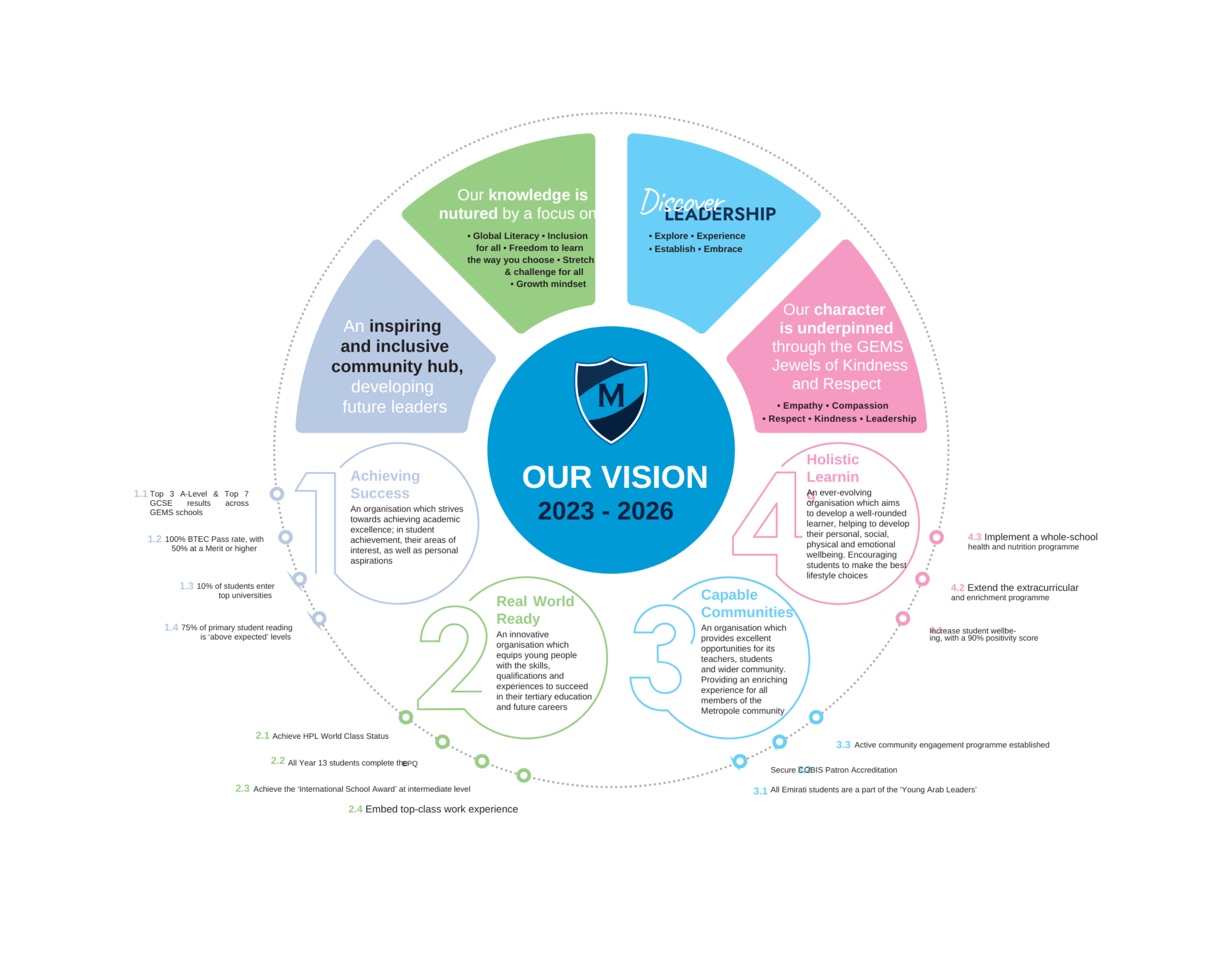 School Vision, Mission & Values
Our highly experienced, dedicated teachers ensure that every young person's learning is at the heart of what they do. Our core purpose is to achieve academic excellence alongside extensive enrichment opportunities to develop the whole child. We encourage every student to be actively engaged learners, whether it's in the classroom, across the school, or in the wider community.
Our Vision
An inspiring and inclusive community hub, developing future leaders
Our Mission
Inspire, lead and exceed our potential
Our Values
Compassion, Empathy, Kindness, Leadership & Respect
Inspiring Our Children
aDuring lessons students work incredibly hard as they are so deeply engaged by the activities offered. Learning is challenging and teachers and their assistants encourage thinking beyond what is obvious. Students are expected to rise to this challenge and push themselves to higher levels of achievement.
Striving For Success
Our students approach challenging tasks with resilience and are not put off by difficulties they may face. They show a determination to succeed and understand facing up to problems is an essential life skill. Not everyone gets it right all the time, but our students are taught it's fine to fail from time to time. Through HPL independent learning is a common feature of lessons and students are praised regularly for 'EFFORT'. The quality of feedback is second to none and teachers ensure feedback is acted upon swiftly so that gains in knowledge and understanding are crystal clear and that progress in learning is high.
Our Inspiration and Pride
Leaders at all levels enter classrooms unnoticed to see inspirational, independent learning in action. Children discuss their learning enthusiastically and can set their learning within a real-world context. Regardless of the year group or topic being studied, children know what they are learning and 'WHY'.
We Can Achieve Anything If We Work As A Team
Leadership at all levels is well distributed and the senior teams believe in growing their own leaders. Roles & responsibilities for leaders are clear and leadership structures are aligned to school priorities. Leaders create leaders and all staff have the opportunity to develop leadership skills in Metropole school. People feel part of a team and everyone is encouraged to contribute ideas for school improvement to ensure the school remains a reflective organisation and one determined to achieve its key ambitions.
Connecting Our Learning To The World Around Us
We routinely provide students with learning in a real life context. Our forest school in the Infants School enables us to meet learning objectives in an outdoor setting. Throughout the school students are provided with opportunities to develop social and leadership skills through teamwork, performing and problem solving activities.
Our Quest for Knowledge
At GEMS Metropole, we all believe innovation plays a crucial part in driving up the quality of teaching to even higher levels. The willingness to share and learn from each other is tangible and a key feature of our school. A visitor walking around would notice that classroom doors are open and that colleagues regularly take the opportunity to observe each other to learn best practice and reflect on their own pedagogy.
The Very Highest Expectations
At Metropole, students are not expected to 'feel the pressure' to achieve, they achieve because they love learning. It is the fascination of the subject that is key and not a grade! Teachers and students in all year groups explore topics together around the central question of 'WHY' and timely intervention is used to ensure each child develops a deep understanding of their learning, so students enjoy a consistent approach.
The Importance of Literacy And Numeracy
Where activities allow, numeric understanding is also developed across the age range and there is a common language around the teaching of literacy and numeracy that students enjoy at Metropole school. Literacy and numeracy are essential and help students to access deeper learning. Literacy is central to every lesson and teachers and assistants develop literacy at every opportunity.
Community, Culture, Ethos and Values… Who We Are
Our community spirit is very tangible. Our shared values of Respect, Empathy, Compassion, Helpfulness & Leadership are celebrated, as is the UAE's culture and values. Of fundamental importance to us all is community spirit and how our moral values that we learn through our interactions help us become responsible, morally upstanding, citizens.
Our Progress and Sense Of Community
Everyone is playing their part in helping their school to take its place at the centre of the community. When it is time for parents' evenings the ethos of partnership with parents shines through and real dialogue that puts the learner first helps families understand how their child can achieve even more!
Our Positivity in A Healthy, Safe, Learning Environment
Our learning environment is pivotal to our success and space is used wisely throughout the building. Displays are bright and colourful and add meaning to learning whilst also celebrating achievements. Premises are kept immaculately clean by a dedicated site team and all staff share this key obligation. Security is paramount and our security team are on hand 24 hours a day to keep everything secure.
Our Memories
When children reflect on their time in their school, they will recall special memories with us and know that everyone made a vital contribution in giving them the best start in life.