Performing Arts
A warm welcome from the Performing Arts department, the home of expressive arts in Dance, Drama, Media and Music. The PA team at MTS are truly world class, highly experienced and industry led educators. The team provide the tools for all our students to flourish and grow, which in turn enable all to succeed; as they journey toward becoming, not only creative citizens but, our future leaders.
Creative and expressive arts provide a platform to elevate every student in building confidence, enhance their creative skills output and a structured time to underpin a growth mind set approach; which fundamentally can accelerate students' academic study and levels of attainment. The performing arts curriculum throughout primary and secondary is designed to support the fundamental key skills which enable our future leaders a platform to grow through the key attributes required in becoming the change makers of tomorrow and taking their place as the future leaders within our global industries.
At Metropole we recognise that not every student will want to peruse career as a performing artist, that is why we integrate practical High Performance Learning attributes throughout our curriculum, this keeps the work truly relevant for all learners and aligned with the vision of Metropole.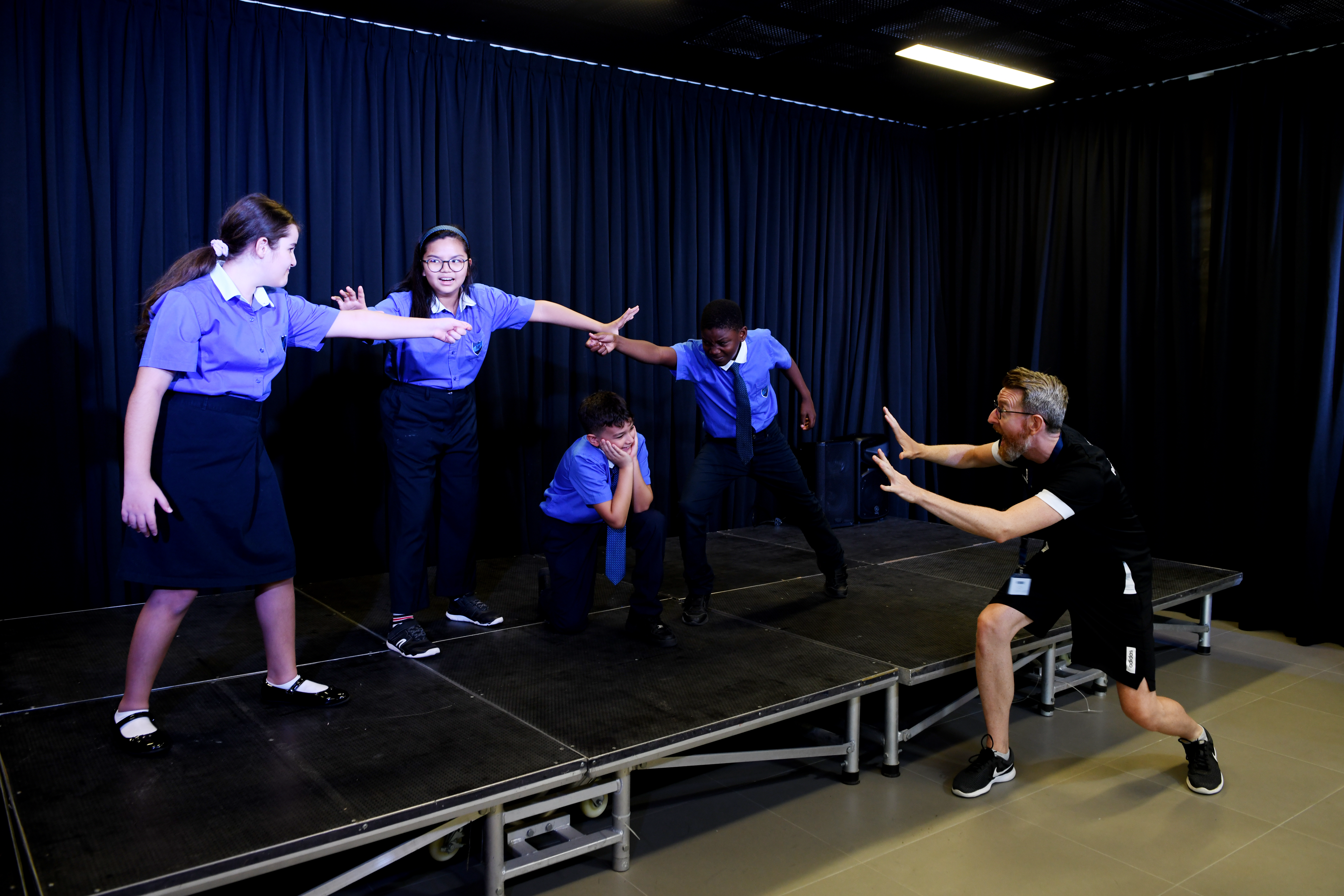 MTS Performing arts students come curious, but leave inspired!
The departments expectation throughout whole school performing arts is respect. It is the key element which allows students to grow, learn, take risks, collaborate and step into their creative power.
All students at MTS have the opportunity to take part in a primary or secondary whole school production, with various events throughout the year to show case and celebrate the gifts of all our students, such as music concerts and dance & drama festivals. These are not just limited to performing in these events but students can be involved with the technical aspects, design and entrepreneurial elements required to market and advertise the event.
Metropole has a wide variety of expressive arts extra-curricular activities; these are available from Year 3 and above. Most ECA's include awards and examinations which can be undertaken, all at additional cost to school fees, these include:
CMA Centre for Musical Arts: One-to-one and group instrumental and singing lessons available
UDO Academy: Commercial Street dance, Jazz and ballet, including teaching qualification
Urdang Musical theatre: Musical theatre group lessons
LAMDA: one-to-one Communication and confidence examinations
DJ Fresh: Group music production, editing and mixing lessons
Rock and Pop singing troupe: Available as group
Primary Performing Arts (Music, Drama and Movement)
From Years 1-6, students participate in an hour per week of Performing Arts exploring skills through structured play in acting, singing, music and dance. The aim is to connect classroom learning practically in a creative environment where students have the opportunity to explore various key stage topics/themes and apply what they have learnt to underpin their academic studies; ultimately enriching the power of imagination, developing communication skills, improving confidence and igniting creativity.
Students have a variety of performing opportunities from the winter show to the end of year productions.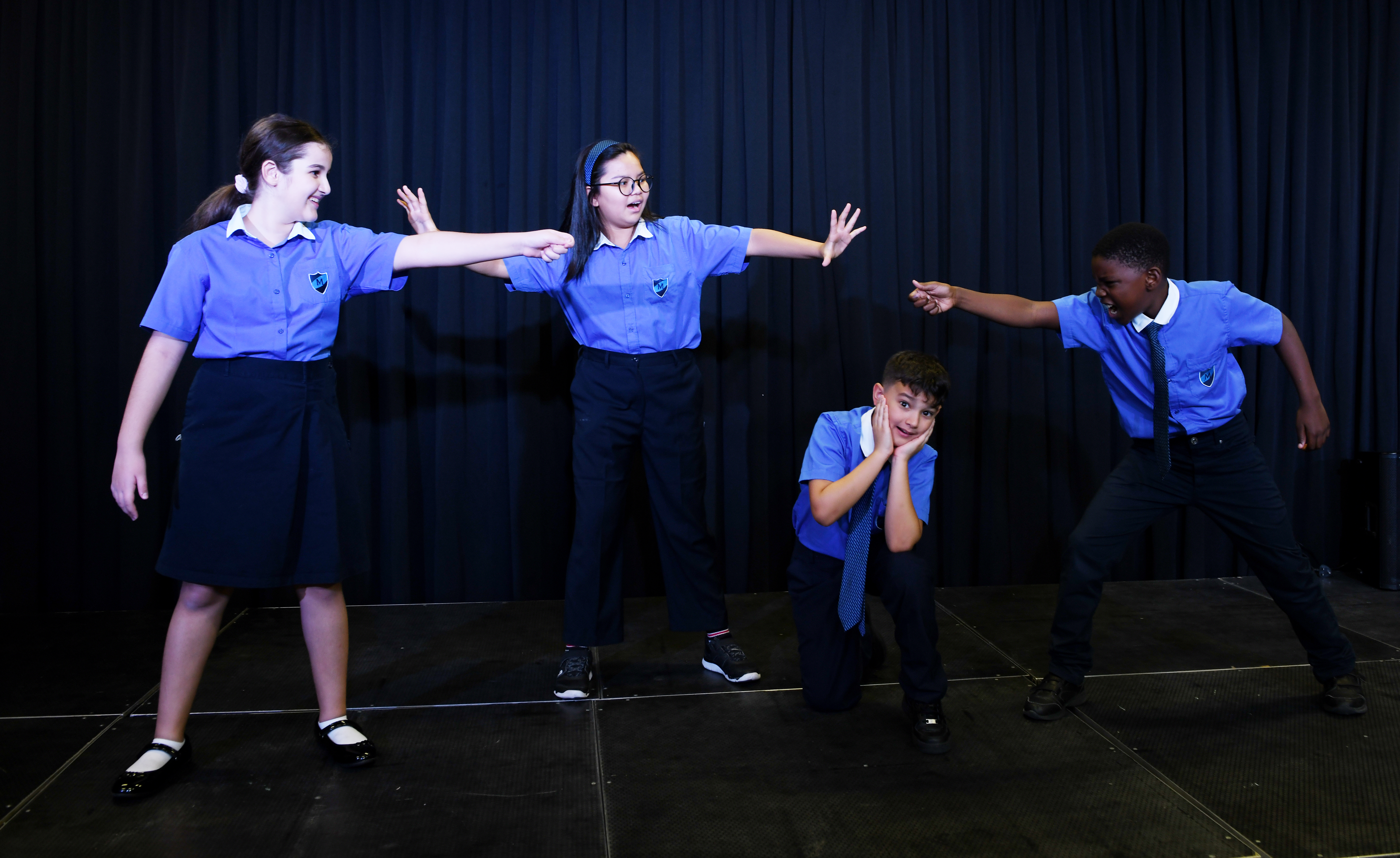 SECONDARY PERFORMING ARTS
Drama
Secondary drama is one of our core Performing Arts specialisms taught an hour once a week. Drama at Metropole is more than allowing all our students to develop skills in acting but moreover our main aim is to equip students with transferable key skills, which support and enrich their studies holistically. KS3 students explore all components of creating, performing and evaluating The Arts, to engage their critical and collaborative skills. The aim is to nurture their creativity in an environment where students have the opportunity to explore various themes and apply these skills to their everyday life. Drama ultimately enhances the awareness of each student's imagination, developing communication skills, improving confidence; whilst igniting creativity. These skills provide a platform for our future leaders, to grow as world class learners. Topics in Drama include: improvisation, devising, scene study and performance from text.
We currently offer GSCE Drama and A-Level Theatre Studies
GCSE Dance
Dance is a powerful and expressive subject which encourages students to develop their creative, physical, emotional and intellectual capacity, whatever their previous experience is within the subject. Students explore two main components which consist of Performance and Choreography alongside Dance Appreciation. GCSE Dance has a clear progression to A-Level, higher education and beyond!
Music:
Secondary Music is one of our Performing Arts Specialisms here at MTS at taught an hour once per week. Music at MTS allows our students to become musicians. We explore learning the three core fundamentals of Music; Performance, Composition and Listening & Appraising. Our topics range from Instruments of the Orchestra, to musical trips around the world, to learning the tricks on how to compose successful modern pop songs. Our students are given opportunities to explore and learn a variety of instruments throughout their musical journey at MTS. We learn how to perform, and develop confidence within ourselves to make performance a successful and positive experience.
Secondary Music at Metropole is practical and a hands-on learning experience, available to all our students. We hope that they develop an interest in the subject and unlock their musical potential with us here.
Further opportunities to develop and grow individual musical ability are available through our instrumental programme with CMA Centre for Musical Arts and we offer a range of Masterclass activities to spark our student's interest and passion.
Metropole will be launching GSCE Music from September 2022.