Inclusion
Our Inclusion Journey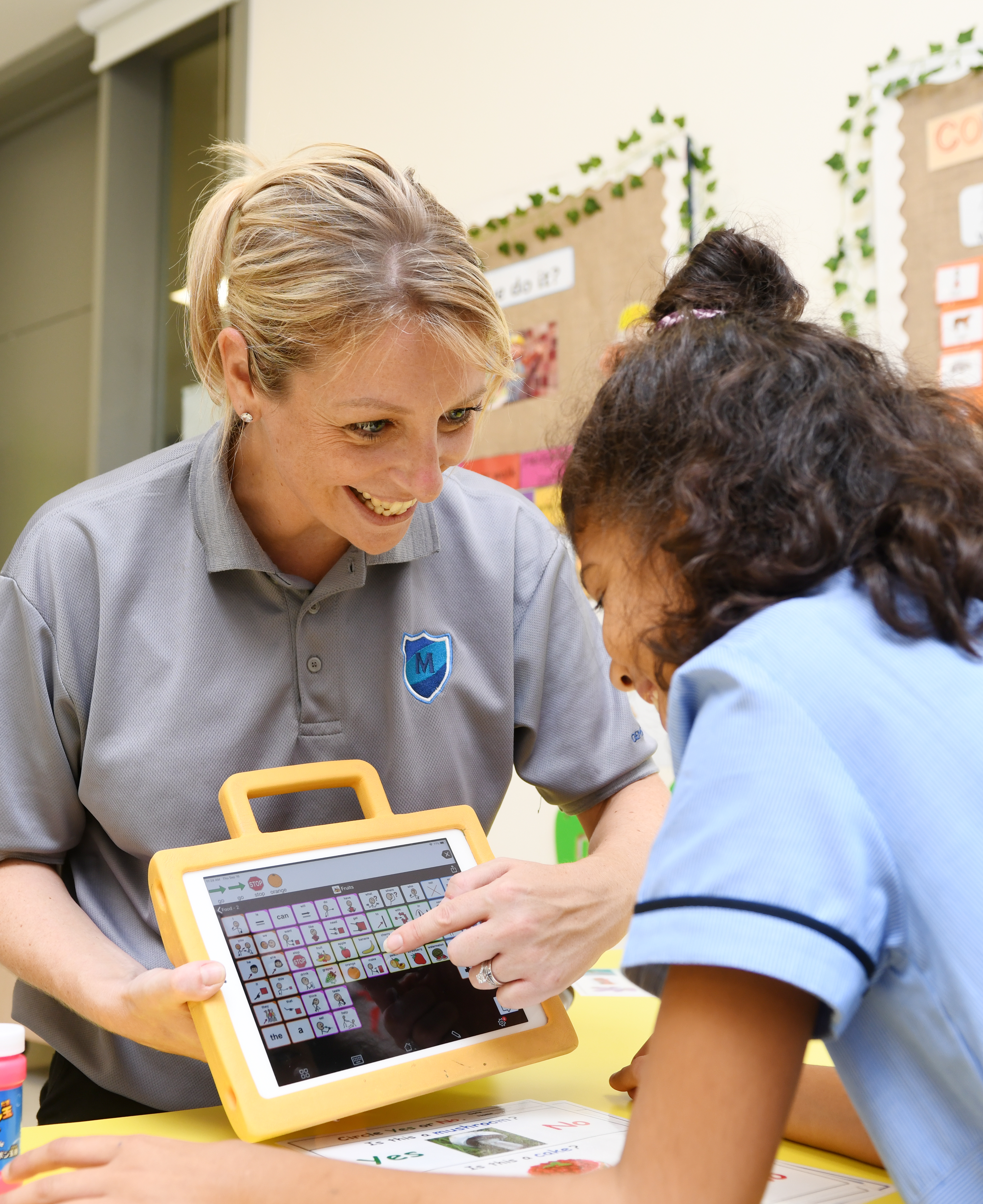 Every child in Dubai must be able to access education that is high-quality, inclusive and equitable. And every parent must know what to expect when they enroll their child in a private school in Dubai.
Advocating for Inclusive Education is a new guide to help parents better understand their legal rights and responsibilities when it comes to finding the right school for their child. It also includes insights on becoming more effective advocates for their children at school.
This guide is the first of it's kind designed to enable parents become better informed and more confident as they navigate the best way forward for their children of determination.
You can access this guide for your reference here Download now
Our Mission Statement
We provide a caring, positive environment to ensure everyone is included.
As stipulated by the United Arab Emirates Ministry of Education - Special Education Department, page 14: The philosophy of inclusive education: "Inclusive education means that all students have the right to be educated to the extent possible with their age-appropriate peers who do not necessarily have disabilities in the general education setting of their neighborhood school with support provided. Inclusive education is not intended to limit the participation of students with special needs to regular education programs and services. Rather, inclusive education means that students with special needs have the opportunity to participate in educational programs and services in the least restrictive environment that is commensurate with their individual strengths and needs."

At GEMS Metropole we believe in the rights of People of Determination to be integrated into public and private school, Federal Law No.(29), (2006). In addition, we provide the best possible provision for students of all abilities and value the individuality, talents and gifts of all our students. We plan our teaching and learning so that each student can aspire to the highest level of personal achievement. We believe recognition of all achievements made, no matter how insignificant they may seem to others, is a great motivator for students.

It is essential that we provide an environment in which students feel supported, cared for and where their individuality, talents and gifts are supported. We instill self confidence in accordance with the school's ethos and give all students full access to all areas of learning through differentiating, adapting and modifying the curriculum. GEMS Metropole teaches the National Curriculum of England and Early Years Foundation Stage (EYFS). However, to accommodate a personalised pathway we can incorporate elements from additional curriculums such as ASDAN, Pearson's, Pre Key-stage standards, Engagement model and Pscales.

Diversity is an asset and teachers will strive to ensure all students reach their full potential, irrespective of nationality, gender, religion, social class, culture, race, age or special educational need, for their self-fulfillment and their eventual development into active and responsible adults.

The school Inclusion Support Team offers individualised assessment opportunities to cater for students with additional needs. These assessments inform the development of Individualised Education Plans (IEPs) which are written in partnership with the student, parents/guardians, teachers, any external therapy agencies and Learning Support Assistants. We take great pride in our positive working partnerships with external therapy agencies to ensure we are providing opportunities for students to generalize skills in different environments.

IEP reviews are on a termly basis and are done so through the student lead conversations, parents observations, external therapy support, the class teachers support and through the Inclusion Support teachers 1:1 sessions, in-class support, online support and small group support.

The Inclusion Hub comprises of a supportive team consisting of our school Principal, Inclusion Governor, parent representatives on the parent council, Neuropedia Children's Centre and The Inclusion Support Team which encompasses specialised educators for Special Educational Needs and Disabilities, English as Additional Language, Gifted and Talented, Emotional and wellbeing school counsellors, a Careers and student counsellor and a team of learning support assistants. As a school we feel it is vitally important to keep our team of educators up to date in current teaching practices and through our inhouse team and GEMS, continuous professional development opportunities are provided.

Neuropedia Children's Neuroscience Centre is based at GEMS Metropole where the Metropole team work extremely closely together with the team of DHA approved therapists to ensure a holistic and multidisciplinary approach of support for the students. The Neuropedia Team provide Speech and language therapy, Occupational Therapy, Applied Behaviour Analysis support and Physiotherapy. In the case where adapted curriculum or school readiness support is required the team provide a Unity class with a Metropole qualified educator to deliver the individualised support program.

For further information on Neuropedia Children's Neuroscience Centre please feel free to visit their website: http://neuropedia.ae/

Our students' happiness and emotional wellbeing is essential for them to make progress in all aspects of their lives including that of transitioning between phases of education, enhancing our student's life skills and preparing our students for life after school. Our school Counsellors, Pastoral team comprising of Heads of Year, the Health and Well-being team, trained staff of Adolescent Mental Health First aid and Teen Mental Health First Aid team all provide care systems for all our students, families and staff in Metropole.

We believe that extending support to the family, helps our students make better progress. In order to do this, our Inclusion Hub has an open door policy for all our parents to ensure we are working collaboratively. We meet termly for IEP reviews or as often as required. We host parent coffee mornings to encourage the sharing of experiences, provide a support system and to inform parents on areas of interest they have identified.

Our Inclusion journey in line with KHDA's inclusive ethos continues to strengthen and we are delighted to be recognized for our very good work in Inclusion and parent partnerships in our KHDA reports of 2017, 2018, 2019 and 2022.

• The principal with a strong senior leadership team, has established a purposeful learning community that provides a caring environment which values inclusivity and wellbeing.

• Parents are highly engaged as partners in planning their children's learning. All aspects of social, personal, and emotional development are equally considered as necessary attributes of a successful education. Experts in therapeutic enhancements share their programmes and findings with parents.

• The governor for inclusive education, inclusion champion and inclusive education staff, jointly ensure the school has a highly inclusive ethos. Significantly increasing numbers of students of determination are admitted and are embraced equally into all activities which the school offers.

• The school has a highly inclusive vision and ethos. Students of determination are warmly welcomed. The inclusion champion and inclusion governor ensure that students of determination are included in all aspects of the school community, as far as possible.

• Parents are highly valued partners in their children's learning. They feel very well informed, and have access to high quality guidance. The school provides regular, insightful updates to parents about their children's progress, and includes them in all aspects of care and support.

• The school is very inclusive. Specialist staff identify and support students of determination very effectively to enable them to make good and better progress.

• This highly inclusive school is welcoming to all students.

• The high quality and effective implementation of the school's arrangements for health, safety, care and support.

• The very effective identification of barriers to learning and support for students of determination.

• A friendly atmosphere of mutual respect and co-operation is evident across the school.

• Partnerships with parents are very positive. They are regularly consulted and welcomed at the school. Parents greatly value the support, training and advice they receive from the special needs coordinator, unit specialists and teaching staff.

• Parents are valued partners in their children's education. This is especially true in the additionally-resourced autism provision, which partners with the school in providing high quality, wrap around educational experience for the children and their families.

• The school very successfully empowers parents to work as partners in their children's education.

The school is fully committed to our inclusive ethos and fully embrace the following statement, KHDA (2017) "Matters concerning admissions, participation and equity refers to the fact that students who experience SEND have the same right as all other students."

For further information on how we provide support within Metropole, please feel free to refer to our Inclusion Policy.

For any enquiries regarding inclusion in Metropole, please contact Dr Jennie Telus on: [email protected]

Policies

The Law and Guidance Set in the UAE

Our school mission, vision and policy are based on the statutory requirements laid out by: