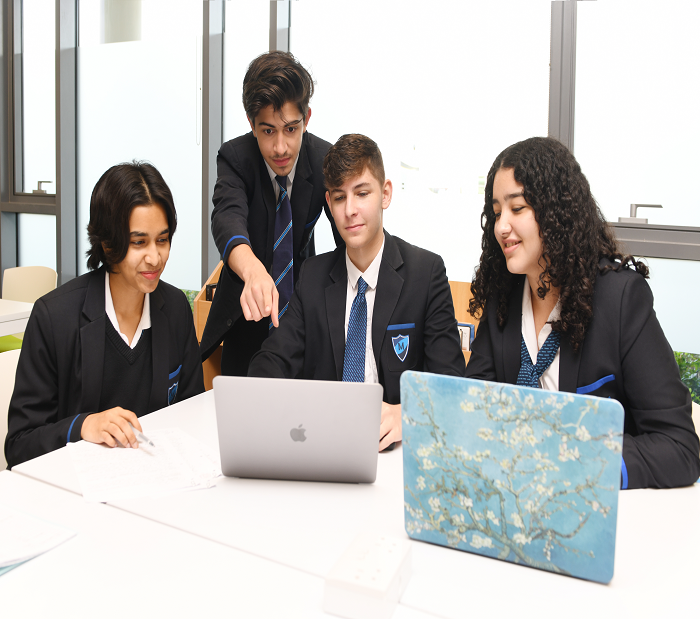 Student Leadership
At GEMS Metropole School we provide all students with the opportunity to Discover Leadership. We believe that student leadership develops confidence, resilience and responsibility. Through a wide-ranging leadership programme our students are becoming creative thinkers, problem solvers and more effective communicators, which is an integral part of lifelong learning.
Student Leadership is visible in all aspects of Metropole life. It is embedded within our curriculum and there are many opportunities to develop personal leadership skills within our broad master-class enrichment programme.
We have student leaders across all phases of the school, representing key areas such as;
Health and Wellbeing
Eco
Sport
High Performance Learning
Core Subjects – English, Maths, Science, Arabic
Digital Learning
Global Ambassadors
Our Aim
Our purpose at MTS is to ensure all students are fully supported and encouraged to:
Develop their leadership skills to prepare them for future opportunities
Hold the highest standards of respect towards others and the environment
Strive for an inclusive community at MTS
Aim to be outstanding role models both in and outside of school life.
Student Council
There are 62 Student Council representatives across Junior, Prep and Senior school who represent their peers to create positive change for all members of the GEMS Metropole Community.
House System
At GEMS Metropole we nurture an inclusive atmosphere and a strong community spirit through our house system, to which all students belong. There are four houses, which are named after popular racing teams: Ferrari, Mercedes, Maclaren and Williams. House Captains have many important responsibilities throughout the year, they are the leaders of their houses who encourage pride and inspire team ethos.
Leadership in the Senior School
Our extensive leadership positions in sixth form prepare students for future roles and responsibilities. The prestigious roles of Head Boy, Head Girl and Senior Prefects have a dynamic contribution to school life.
School Council & SSAT Leadership Programme

Every student in Junior School will have the opportunity to apply to be a Student Leader-School Council Representative. Once all of the applications have been heard, pupils within the class will vote for their class representatives.

Every class will have two representatives, one boy and one girl, and these pupils will form part of the School Council for their year group. Being a School Council Representative allows pupils to voice their opinions alongside management within the school, and they will have their views considered in decisions which impact upon them and their peers. For students in Years 5 and 6, students will also have five projects to complete on top of their student council responsibilities. On completion of these projects, pupils will receive a certificate accredited by an external leadership organisation (SSAT).

Student Leaders will debate issues and will have a 'real voice' in the decision-making processes within school. Furthermore, students will discuss a wide range of important topics, issues and initiatives. Students will develop their debating, planning and people skills in this role, and will also understand the importance of democracy.

The House Captain position is the most prestigious role within Junior School. Elected students will lead across the school to develop a culture that excites and motivates other students. In addition, they will be the role models for Year 6 and the wider school and will attend key school events. They will also be required to support assemblies, lead internal inter-House competitions, help out at school events, meet visitors and give tours of Metropole School.

Students who wish to apply to be House Captain will be required to create a presentation, and these presentations will be shown to all students within their House team. Students will then vote for who they would like to represent them as House Captain.

Students will develop their leadership skills through actively leading a team of other student leaders, working towards deadlines, organising their workload and balancing it with their schoolwork and their ability to collaborate with one another to reach a goal.

"Leadership and learning are indispensable to each other". -- John F. Kennedy

Sports Leaders will be selected in Year 6 and Year 11 during PE lessons. They will learn skills such as effective communication whilst learning to lead basic physical activities to younger people and their peers. This opportunity ensures that learners have a structured leadership pathway that helps them to develop into confident Sports Leaders.

Sports leaders will be responsible for leading and assisting in the delivery of sport and physical activity sessions in school. Events will include Sports Day, Swimming Galas and the competitive Dubai Fitness Challenge.

Sport Leaders will be working with children of all ages with different sporting backgrounds therefore developing their communication skills. Sports Leaders will be ambassadors for the Metropole Physical Education department and will be a role model to other students.

"It's hard to beat a person who never gives up." -- Babe Ruth

High Performance Leaders (HPL)

HPL Student Leaders will play a key role in supporting world class learning at GEMS Metropole School. They will celebrate student achievement and develop student understanding and awareness of the HPL dispositions.

HPL leaders will be selected through submitting a video application. They will discuss their knowledge of one of one of the HPL values, Attitudes or Attributes in order to find suitable candidates with an understanding of learning skills. There will be one HPL leader in each year group from Year 2-6.

Selected students will be responsible for rewarding students who have excelled in the HPL competencies through assemblies and through joining staff on Learning Walks. Students will also support with developing students' understanding of the HPL competencies through creating assembly videos and tasks to promote HPL. As HPL leadership is a new role, they will later be involved in creating a job description for future HPL leaders as a legacy project.

Students will have the opportunity to develop this role as the year progresses. Our HPL leaders will become experts in how students learn and will be able to identify these skills in practice, throughout lessons. They will develop their intellectual confidence, the ability to collaborate within a team while being organised and able to plan small projects.

"Avoid the crowd. Do your own thinking independently. Be the chess player, not the chess piece". -- Ralph Charell


Pupils from years 2-6 will have the opportunity to be an Eco Leader. Being an Eco Leader allows pupils to be an ambassador for the natural environment and bring their own creative solutions to global challenges. Selected students must be caring, committed and responsible critical thinkers.

At the beginning of the academic year, all students will be given an application task to complete, inspired by the WWF movement. This may involve a creating a video, a piece of artwork or delivering a passionate speech to their peers.

Throughout the year, selected students will be involved in a wide range of activities. These include: creating and making progress towards our own Earth Hub Action Plan and working towards our Silver Eco Schools Green Flag award. Additional projects including- enriching our Forest School areas and growing the Metropole Farm.

"On land and in the sea, our forefathers lived and survived in this environment. They were able to do so because they recognised the need to conserve it, to take from it only what they needed to live, and to preserve it for succeeding generations." ― Sheikh Zayed Al Nahyan

Pupils in years 3 & 4 will have the opportunity to be a Digital Leader. Digital leaders will test and feedback on new software and hardware that is going to be used in classrooms Digital Leaders will be involved in competitions and will raise awareness of such events across the school. Digital leaders will also be responsible for putting out a 'tip of the week' in regard to applications and platforms that are being used in school.

Other roles include:

Techy tip of the week
Testing out new platforms
Helping students in a termly genius bar
Working with the older students to improve their skills

To be successful, students will need to take ownership over tasks and complete them in a timely manner. Working collaboratively is an essential part of being a Digital Leader, and through online platforms, the sharing of documents is a fundamental skill which will be developed in this role.

"Innovation distinguishes between a leader and a follower." -- Steve Jobs

Pupils in years 5 & 6 will have the opportunity to be a Wellbeing Leader. Students will complete an online application form stating their reasons for applying for the role, why they feel wellbeing is important and what they would like to introduce to the school to promote wellbeing.

The aim of being a Wellbeing Leader is to raise the profile of this important agenda and bring an additional layer of energy and collaboration to MTS; students deserve to have a voice and to be more involved.

Other roles include:

Promoting healthy lifestyle, well-being and resilience.
Building awareness of the sources of support in MTS.
Being kind, caring and helpful towards others.
Develop presentations, newsletters, posters, display boards and raising awareness through school events.

Students will aim to become a compassionate and conscientious leader. These attributes will support them in school, but these skills are transferable and would support them in future work environments. Being a good leader requires understanding of the needs of those they lead, and know how to help and inspire them.

"Too often we underestimate the power of a touch, a smile, a kind word, a listening ear, an honest compliment, or the smallest act of caring, all of which have the potential to turn a life around." -- Leo Buscaglia

There will be one Science Leader selected per class in every year group from 1 – 6. The leader will be changed every term, resulting in three different Science Leaders over the course of an academic year. Students can apply to be a leader at the start of the year.

Students will have opportunities to lead investigations, share their ideas with other leaders and will contribute to whole school events such as Science week and STEAM Day. The leader will have opportunities to effectively communicate with their peers, their class teacher and will also share their ideas in our meetings as Science leaders.

A Science leader is a fantastic opportunity for any budding scientists to develop their leadership skills within the subject. During lessons, the Science Leader will be expected to be a role model for their peers, modelling the correct scientific language and ensuring all members of the class are carrying out investigations in a safe, fair manner.

"Every brilliant experiment, like every great work of art, starts with an act of imagination." -- Jonah Lehrer

There will be one Maths Leader selected per class in every year group from 1 – 6. The leader will be changed every term, resulting in three different Maths leaders over the course of an academic year. Students can apply to be a leader at the start of the year.

The Maths Leader role enables children with an especially keen interest in Maths to take on extra responsibility in the classroom. They will set high standards in class in terms of completing tasks and helping assist peers where appropriate.

Maths Leaders will help their peers understand tricky concepts by creating 'how to' guides and videos explaining their learning. Maths leaders will also take responsibility for setting up and monitoring mental arithmetic competitions including Times Tables Rockstars for their class to compete in.

"Pure mathematics is, in its way, the poetry of logical ideas". -- Albert Einstein

There will be one English Leader selected per class in every year group from 1 – 6. The leader will be changed every term, resulting in three different English leaders over the course of an academic year. Students can apply to be a leader at the start of the year.

English leaders will be able to confidently support other students in the class in English lessons as well as with their reading. As well as supporting in the classroom, the English leaders will take part in planning, preparation and promoting English events in school such as the Emirates Literature Festival and World Book Day.

In class, these students will be responsible for ensuring the reading target display is updated on a weekly basis. English Leaders will also ensure that the reading corner in the classroom is kept up to date with a book of the week. In years 4, 5 and 6, students will also lead and drive peer assessment in the classroom.

The English leaders will meet with the Head of Department periodically to provide feedback and address any areas for development as well as the strengths in their current roles. They will also create pupil voice surveys to address areas of development in this subject.

"If you set your goals ridiculously high and it's a failure, you will fail above everyone else's success." -- James Cameron

The purpose of having Playground Leaders is to enhance the breaktime experience for all students in our school and to develop leadership skills in children. Students will receive support in learning how to organise activities for other children in the playground, and through games and activities, leaders will create an inclusive and welcoming environment for everyone.

The Deputy Heads of Year will select five new Playground Leaders at the start of each term. Pupils may be selected for a variety of different reasons, these include:

They are very enthusiastic about the opportunity to be a leader.
They might benefit from having extra responsibility in school.
They are reliable, hard-working and are ready to help others.

The role of being a Playground Leader will vary between year groups. However, all students will be expected to be exemplary role models, organise games, and to develop the spirt of inclusivity and positive wellbeing. Playground Leaders will be trained to plan and deliver safe and engaging physical activities for their peers.

Pupils will develop their organisational skills and their ability to adapt to different situations. Furthermore, students will need to learn how to deal with conflict/emotional issues using their problem-solving skills to help others.

The Motto: There is always room for one more!