Secondary Curriculum at Metropole
Prep School
The Prep School, which includes years 7 - 9, (11 – 14 years) encourages students to become active leaders through sport, recreation, volunteering, project work, performing arts and any other exciting opportunities that include students being active.
Students take part in a bespoke leadership curriculum which develops active leaders who understand how to work in a team, as well as striving towards success through individual participation. Students attend Real World Studies, which bridges the gap between learning in the classroom and learning in the real world. Service work in the community ensures students are developing into kind and caring citizens, and in and out-country educational activities and project work gives students the opportunities to apply their learning to a real-world setting. Students embrace these activities whilst learning how their skills can be used in further education, work and travel. Students in the Prep School are encouraged to keep active by participating in team activities as well as individual disciplines. All students have opportunities to work towards leadership accreditations, including the Sports Leaders Award. Students' confidence and resilience are enhanced at the same time as students gaining qualifications, which will go on to serve them well beyond their education.
The Prep School focuses on providing students with the skills needed for their GCSE and vocational courses as they move into the Senior School. There is an emphasis on learning skills, knowledge and wellbeing, so that they are prepared for future challenges. Students have the opportunity to engage in student voice projects, such as 'MTS Talks', which extends the skills students have focused on in the Junior School. Our Prep School offers specialist scholarships to celebrate sporting abilities and student voice, which encourages them to lead by example.
Please click below to download Prep School Curriculum Books: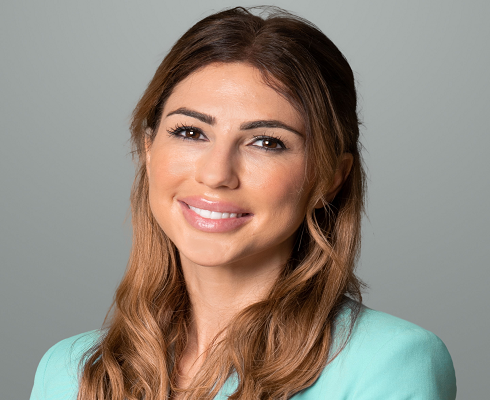 Daniella Aschettino
Secondary Headteacher,
Leadership Team
Meet The Head of Secondary
"Over the past year our secondary school has evolved and improve rapidly and has become a dynamic, supportive and forward thinking place for all of our students to learn."
Explore the Secondary Curriculum
Our curriculum focuses on several different areas below
In the secondary school students follow a structured course in English that enables them to consolidate core skills and analyse a range of fiction and non-fiction texts. Students have dedicated library lessons with a resource pack provided to guide them through their independent reading opportunities.

The distinction between 'comprehension' and 'word reading', which operated at Key Stages 1 and 2, has disappeared. There is one set of orders, simply called 'reading'. Pupils are encouraged to read critically through 'knowing how language, including figurative language, vocabulary choice, grammar, text structure and organizational features. During Key Stage 3 'the analytic study of language should receive greater attention, whether this study is concerned with word classes, word structure (which would include morphology),sentence grammar, text grammar, the history of change in English (including etymology) or other aspects of knowledge about language.

Students are taught to write 'well-structured formal expository and narrative essays; stories, scripts, poetry and other imaginative writing; notes and polished scripts for talks and presentations; a range of other narrative and non-narrative texts, including arguments, and personal and formal letters'; and they mention planning, editing and proofreading.

At GEMS Metropole students' needs are very much at the heart of the learning process. Everyone is valued for his or her experiences and questions are welcomed as part of the learning experience. Students are encouraged to develop an independent learning attitude through investigational tasks and regular homework.
The programme of study for Key Stage 3 is organised into apparently distinct domains. Pupils build on Key Stage 2 and connections across mathematical ideas to develop fluency, mathematical reasoning and competence in solving increasingly sophisticated problems. They also apply their mathematical knowledge in science, geography, computing and other subjects.

Decisions about progression is based on the security of pupils' understanding and their readiness to progress to the next stage. Pupils who grasp concepts are challenged through being offered rich and sophisticated problems.

Together, the mathematical content set out in the Key Stage 3 and Key Stage 4 programmes of study covers the full range of material contained in the GCSE Mathematics qualification.

Science is changing our lives and is vital to the world's future prosperity, and all students should be taught essential aspects of the knowledge, methods, processes and uses of science.

In the secondary school the principal focus of science teaching in Key Stage 3 is to develop a deeper understanding of a range of scientific ideas in the subject disciplines of biology, chemistry and physics. Pupils should begin to see the connections between these subject areas and become aware of some of the big ideas underpinning scientific knowledge and understanding.

Studying the sciences in Key Stage 4 provides the platform for more advanced studies, establishing the basis for a wide range of careers. For others, it will be their last formal study of subjects that provide the foundations for understanding the natural world and will enhance their lives in an increasingly technological society.

Our modern science laboratories offer spacious, excellent facilities in which students can study Biology, Chemistry and Physics, and be introduced to the fundamental concepts of science that will pave the way for the more advanced topics.
Year 7 to Year 9

Age: 11 years old to 13 years old

Prep students at GEMS Metropole School have the ability to tailor their programme to meet their interests. We support and encourage students to find out their strengths and explore more advanced areas of learning as they prepare for their final years of school and major examinations.

Year 7-9 subjects:

English
Mathematics
Science
Humanities (History and Geography)
Modern Foreign Languages (French or Spanish)
Performing Arts (Drama and Music)
Physical Education (PE)
Art and Design
Information and Communications Technology (ICT) and Computing
Islamic Studies (Includes Quran recitation) - Muslim Students
Arabic (A and B)
Skills in School (Non-Muslim students)
Active Leaders
Moral education and Social Studies
Masterclass

Students will begin to prepare for their International Graduate Certificate for Secondary Education (IGCSE) that they will study for from Year 10, so an emphasis is placed on skill and competence discovery.
More To Explore
Admissions

View our admissions process for enroling your child.

Facilities

We have a state of the art campus and facilities which create a rich learning environment.

Extra Curricular Activities

We offer programs that introduce students to a variety of exciting and enriching experiences.

School Policies

Policies are important as they help a school establish rules and procedures and create standards of quality for learning and safety.