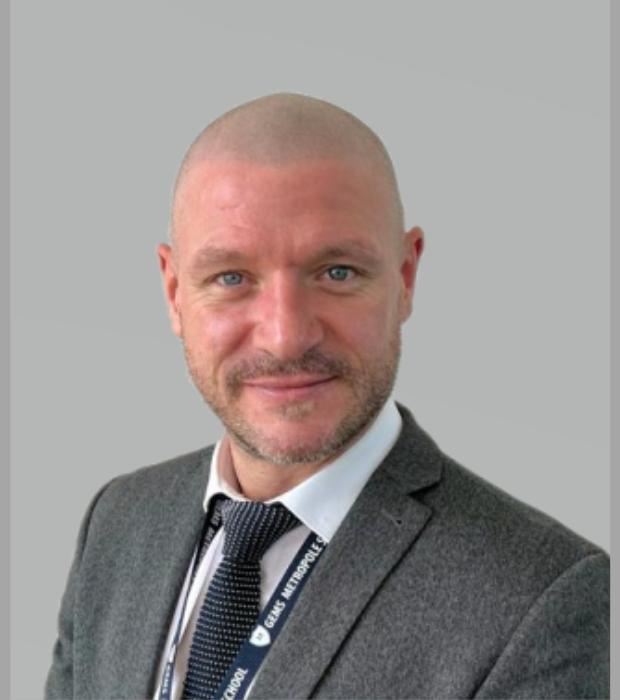 Simon Humphreys
Assistant Headteacher of Secondary
My name is Simon Humphreys and I will be starting my 3rd year at Gems Metropole as Assistant Headteacher and Teacher of Media Studies. This year I look forward to working closely with the Y7, 8 and 9 students and guiding them through this important time in their education. As well as my responsibilities as Assistant Headteacher, I also look forwards to teaching GCSE and A level Media Studies.
I have BSc Honour in Multimedia Technology from Leeds Becket University, in the UK, with a specialism is creative design software applications. Following this I went on to complete a Post Graduate Certificate in Education at The University of Huddersfield, UK. I have over a decade of teaching experience and before moving to the UAE I worked in several high performing secondary schools, and Sixth Form Colleges as Head of Creative and Visual Arts and Teacher of Media and Film Studies.
Last year I worked as Head of Y11 and as part of my middle leadership duties, I acted as role model and developed an inclusive and collaborative team who were motivated to help students achieve outstanding academic and pastoral progress.
In all of my teaching practice it has been essential to provide inspiration and vision to help drive my learners forward, as well as contributing to the overall success of the wider learning programme. I have achieved significant results in raising the success rates of underperforming students through strong intervention and support.
I have forged excellent working relationships with colleagues and students alike and I have been able to build such relationships based on mutual respect, exceptional subject knowledge, and a willingness to go the extra mile to help my learners succeed.
More To Explore
Secondary Curriculum

GEMS Metropole School teachers plan challenging, well-organised, interesting lessons with good pace, and incorporate a range of teaching and Assessment for Learning pedagogies. There are regular opportunities for leadership, decision-making and problem solving and pupils are encouraged to take an active role in the learning opportunities they encounter.

Sixth Form

Our Sixth Form will inspire our school student leaders to follow the guiding principles of our school, to develop academically, culturally and physically through a commitment to academic achievement and success; by being responsible citizens when representing the school through community service; and by displaying an overall commitment to tolerance and respect in all they undertake.