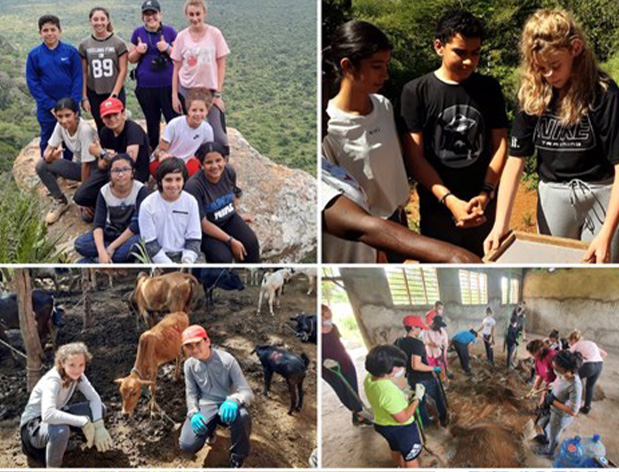 Metropole Heroes
Success Stories
In Metropole, we have always prided ourselves on our students' highlights. We appreciate and admire what they do every day, and we want to continue to show them that what they do to succeed really matters.
Shanessa Fernandes - A Level Top Achiever

Shanessa Fernandes, top A Level achiever has something to tell us about his journey in GEMS Metropole.

Shanessa showed huge success in her A Levels, achieving three A* grades (Business, Psychology, Art, Craft & Design). Shanessa will be studying Design with Business and Marketing at the University of Alberta, Canada.

Gaweed Elmogy - A Level Top Achiever

Gaweed Elmogy, top A Level achiever has something to tell us about his journey in GEMS Metropole.

Gaweed achieved three A* grades (Mathematics, Physics, Chemistry) and one B grade in his A-Levels (Further Mathematics). Gaweed is now going to New York University, Abu Dhabi to study Mechatronics and Engineering. Gaweed was thrilled with his results: "I feel ecstatic with my results as it shows that all the hard work has indeed paid off. I would like to thank the teachers for pushing me to reach these grades, for the school leadership that helped me every step with all the examination procedures and really being there for me when I needed them and for fellow students in Year 13 where we all helped each other out. I would also like to thank my family at home for working really hard to get me where I am today. Thank you Metropole for everything, and thank you GEMS".

George Vickers - GCSE Top Achiever

Top GCSE achiever George Vickers achieved x7 grade 9s, x1 grade 8

George performed exceptionally well in his GCSEs! He achieved seven grade 9s and one grade 8! We are incredibly proud of George's success and we wish him well for the future.

Minhal Hasnain - GCSE Top Achiever

Top GCSE achiever Minhal Hasnain achieved x7 grade 9s, x1 grade 8
Belal Isaac - Talented International Athlete

Belal Isaac is a very talented athlete who started playing different kinds of sports like football, karate, running and swimming.

At the age of 10 he decided to be a professional swimmer when he got the chance to meet an amazing role model Chad le Clos and started training professionally.

Belal takes part in many international camps to prepare for international competitions. He has taken part in competitions in Greece, Russia, France and Oman. In addition to that, he has been extremely successful in a number of national competitions including 1st EMIRATES CUP, Middle East Championship, Speedo Invitational, Super Sports Mina Mile, Kalba Open Water Competition, DASSA swimming, cross-country and athletics. He also represented Metropole in the World School Games which presented schools from 3 different continents (Asia, Africa and Europe) and through which Belal won many medals for achieving first or second place.

Last year, he has been one of the finalists at the UAE TEENS AWARD U15 swimmers.

Belal is highly dedicated to his sports passion and takes both training and competing very seriously. He also demonstrates a very good understanding of what he needs to improve.

Oliver Baillie - Mountain Bike Racer

Oliver Baillie 10 years old from the UK, races cross country mountain bikes for the Cyclehub Arla Protein team. He is also the promotional rider for the World Series Hero mountain bike races sponsored by Xdubai and Meraas.

When Oliver first came to the UAE his dad was racing road and mountain bikes. He has been racing since he was 12 and now also organises races and so he joined him. His first race was in Jebel Jais quarry in RAK and he was only 4 years old.

Since then Oliver has won a place on the Cycle Hub team who now sponsor him because he had good results. It's the best team out there in terms of the support you get and it's his most local team. Oliver's most recent win was the Dubai Pulse Ride right here in Dubai.

He has learnt that it is not just about winning, but winning is still important to him. Cycling has allowed Oliver to travel around the Middle East and he has made friends with people that share the same interest. He loves going down the mountains as it is so much fun as you can go at great speed. Oliver says that the hardest part is going up steep hills, but it makes you stronger and determined.

He wishes to follow in his dad's footsteps and race all over the world. Oliver's ultimate dream, however, is to have a professional cycling career - maybe racing, maybe managing a team, maybe coaching- there are lots of different things in sports. He is still quite young but cross country is definitely his favourite style of racing.

Nikita Manian - Outstanding Track Athlete

Nikita B. Manian, aged 17 years, is an outstanding track athlete specializing in the 100m and 200m events. She has been competing in various elite-level events in the United Arab Emirates, India and

overseas for the last six years. She has represented the UAE Cluster at the CBSE National Level held in Vadodara, India in December 2016. She has also represented Bangalore Urban district in the Karnataka State Junior Athletics Championship 2019 held at Upudi, India and stood 3rd place in the 200m event.

In 2019, she represented the UAE in the World Youth Games held at Gothenburg, Sweden. She is currently training for the 2020 edition of the event to be held in July.

Nikita was voted as 1st runner up at three of the U.A.E. TEEN AWARDS in the Outstanding Athlete (Girls) category. She has also won numerous accolades in all the schools that she has attended, including stand-out performance awards and sports scholarships. She holds Meet Records in various inter-school track meets such as DASSA, GEMS Sports Series and GEMS Our Own Dubai Meet.

She is currently the fastest U-18 female sprinter in the UAE and Sports Captain at GEMS Metropole School, Dubai

Nikita's medium-long term goal is to sprint for India.

Current Personal Best Timings:

- 100M - 12.30s

- 200M - 24.72s

Jemima Sullivan - All-Round Athlete

When Jemima Sullivan first joined Metropole in 2017, she put herself forward for squad trials. She quickly became interested in all the sports that GEMS Metropole School offers.

Whilst representing the school in a competition, the Director of Physical Education recognised that Jemima displayed a real talent in athletics and suggested extra trainings in clubs specialised in athletics training and development.

She has won 18 medals since 2018

April 2018 - Gems Athletics Cup finals - 1st - Gold 200m

April 2018 - DAPSA finals - 2nd -Silver 150m

April 2018 - Jemima Won 3rd Place UAE Teen Sports & Fitness Awards 2018. U14 Athletics Track & Field

April 2019 - DAPSA finals 1st Gold 150m

April 2019 - DAPSA finals 2nd Silver 80m

World School Games 2019 - Jemima 3rd 150m

Sports Day - She won two years in a row

Won at school

Year 5 female sports day champion
Year 5 Athlete of the year
Best Performer Year 6
Athlete of the season U11 Girls

Finlay Sullivan - Sprinting to Success

Finlay Sullivan has been training extremely hard all year, he has probably accumulated more training hours this season that anyone else in his age group. He has recently been improving at an impressive pace especially in his sprints and his high jump, jumping an impressive height of 1.08m in the Sketchers Super Six competition.
Incorporating Values at Metropole
Conor - Huge challenge of rowing 90km

9th October 2020 – 2 friends and I, took on an exciting but daunting 90km rowing challenge to raise much needed funding for The Water Project. The funds we raised from this would help to provide access to clean, safe and reliable water across sub-Saharan Africa - one community at a time.

When we discussed a challenge to try and raise some money for The Water Project, we decided to add our ages together and that gave us the 90km idea. (Our ages were 24/28 and 38.)

We set out at 6am and began our rowing challenge. Our plan was simple, we aimed to maintain a 1min47second split per 500m which would mean it would take each of us roughly around 3mins40secs to row 1000m, when we would change the rower and we would rotate like this for 90km. (On the changeover, we would aim to limit time wasted and this would leave us aiming for a target time of under 6 hours.)

We completed our 90km row in just 5hours and 23minutes.

It was an exhausting few hours but the sense of accomplishment and achievement was just brilliant, the latest amount raised when I checked was just under 14'000AED, which for 3 friends to sit down and do with only 10 day between idea and event, was something to be very proud of.

The money raised will be well received by The Water Project and I can't wait to see the difference it makes in some people's lives!

In February 2020 students from GEMS Metropole School visited Kenya to help build a new school in Kenya. They worked hard throughout the entire expedition. They started by laying the floor for

the new school building as the old building had been deemed structurally unsafe.

They also made part of an elephant deterrent fence which was harder than it sounds and looks. This helped the local community keep their valuable crops free from hungry animals.

De-worming the goats was a hit with the students and they enjoyed goat snuggles afterwards. They were very pleased with themselves as the students managed to beat their target of 100 and de-wormed 122 goats! This was a great help to so many of the local farmers and an amazing opportunity for the students to give back to a global initiative.

Kevin Climbing Mount Kilimanjaro

Kevin, a keen sports person and caring teacher, decided to use his abilities and his time to support others who are in need.

Kevin has been a teacher at GEMS Metropole since September 2016. In Summer 2019 he was part of a group of people to take on the challenge of Africa's tallest mountain to raise funds and awareness for a UK based charity who supports victims and families of those who suffer from brain tumors.

Mount Kilimanjaro stands at 5800 meters in height. It took the team 7 days to reach the summit and another day day and a half to descend. The daily routine began at around 6am when the team got up to have breakfast before beginning their slow walk. The temperature and altitude all added to the difficulty and the hikers had to ensure to have enough clothes, water and food to keep their energy levels. Each day the team hiked all morning before stopping for lunch and chat with their guides before the began once again walking in the afternoon.

When they arrived at camp they would wash from a basin of water to clear off the dust from the day before sitting down in the mess tent for dinner. Nights were cold and climbers slept in wrapped up in their sleeping bags in their tents with plenty more clothes on including a hat in order to try and keep warm.

With the altitude and the cold it was often difficult to get any sleep but the rest was well needed before the next days walking.

All 12 of the group managed to summit but the biggest achievement was the fantastic amount of money that was raised to support families of those affected by brain tumors.

Lauren - Chopped for Cancer

In August 2017 and most recently in April 2021, I chopped my hair off for cancer research. I am lucky enough that my hair grows fast and thick. Not what you need when living in Dubai with the heat!

Over 4 years ago, a very close family friend was diagnosed with cancer. A form of cancer that can be 'controlled' with chemo but will she will never fully recover. During her first round of chemo, she began to loose her hair. She is a fighter and is still going through treatment to this day.

This spurred me on to have my hair chopped off to donate to Little Princess Trust. A charity that supports young children in creating wigs during their cancer treatment. To find out more and how you could support others who have lost their hair during cancer treatment visit their website littleprincesses.org.uk

Mila - A Charitable Birthday Party

While most children look forward to receiving gifts on their birthday, one young GEMS Metropole student decided she wanted to visit an orphanage or hospital instead to make other children happy.

GEMS Metropole student Mila aged 7 was first inspired to "make some children happy," after a conversation with her mum about the cost of birthday parties and how people are in need in the world.

Having recently celebrated her birthday, Mila decided to find children who needed a friend instead of having a birthday party. The little girl's charitable endeavours not only impressed us at GEMS Metropole, but also her parents. Rama said: "I was really surprised and proud of Mila when she asked to celebrate with the orphans on her birthday and I think actions like these to come from a 7 year old shows that kids can still be thoughtful and not only think of toys and cakes on their birthday."

As part of the GEMS Jewels of Kindness Initiative, which recognises students for their acts of kindness, Mila has been and will continue to be supported by her teachers and everyone and GEMS Metropole to turn her dreams into reality. Mila's mum continues to work with us to support her daughter's ideas to benefit those in need "It was amazing how you guys responded to this and I am so happy that you are taking it really seriously as we need to spread more news like this"

While this was a first for the seven-year-old girl, it probably won't be the last as she is already thinking about sorting through her clothes and toys to give to a charity.

Mila hopes to visit the Al Jalila hospital in the very near future to continue her charitable work.