S.T.E.A.M
Introduction to S.T.E.A.M
The STEAM club introduces students to STEAM (science, technology, engineering, art and math's) through collaborative, project-based learning experiences. Areas of computer science such as programming, computer graphics, web design, robotics, Internet of Things and 3D design are covered.
Interactive engineering projects with Rasberry Pi computer, MakeyMakey console, Elegoo robots and Arduino circuit boards will be introduced.
Science
At MTS We follow the national curriculum for science which aims to ensure that all pupils:
To help develop scientific knowledge and conceptual understanding through the specific disciplines of biology, chemistry and physics.
To assist in understanding of the nature, processes and methods of science through different types of science enquiries that help them to answer scientific questions about the world around them.
We are equipped with the scientific knowledge required to understand the uses and implications of science, today and for the future.
Primary school
At GEMS Metropole School our science lessons are of a practical, investigative nature. Children are allowed time to explore which further develops the children's natural inquisitive nature. Exploring leads to open ended discussions about science in real life contexts and helps the children to understand the world they are living in. Within their lessons, children learn to ask scientific questions and discover how science affects their future.
Our lessons are based upon the National Curriculum of England and have been amended to suit the needs of the UAE. Children have science lessons twice a week and cover both knowledge and working scientific skills within these. 'Working scientifically' specifies the understanding of the nature, processes and methods of science.
Prep School
In KS3 our high-quality science education provides the foundations for understanding the world through the specific disciplines of biology, chemistry and physics. Science has changed our lives and is vital to the world's future prosperity, and all pupils arebe taught essential aspects of the knowledge, methods, processes and uses of science. Through building up a body of key foundational knowledge and concepts, pupils will be encouraged to recognise the power of rational explanation and develop a sense of excitement and curiosity about natural phenomena. They will be encouraged to understand how science can be used to explain what is occurring, predict how things will behave, and analyse causes.
Senior School
Teaching in the sciences in key stage 4 & 5 continues with the process of building upon and deepening scientific knowledge and the understanding of ideas developed in earlier key stages in the subject disciplines of biology, chemistry and physics.
For some students, studying the sciences in key stage 4 provides the platform for more advanced studies, establishing the basis for a wide range of careers. For others, it will be their last formal study of subjects that provide the foundations for understanding the natural world and will enhance their lives in an increasingly technological society.
Science is changing our lives and is vital to the world's future prosperity, and all students will be taught essential aspects of the knowledge, methods, processes and uses of science.
They will be helped to appreciate the achievements of science in showing how the complex and diverse phenomena of the natural world can be described in terms of a number of key ideas relating to the sciences which are inter-linked, and which are of universal application.

Curriculum opportunities:
Throughout their time at GEMS Metropole, children have opportunities to:

Become a leader of science within their year group

Take part in STEAM week / Masterclass

Experience Science in real life environments through the use of our MTS Farm and 'potting shed'
Subject expectations:
All students should be responsible for their learning

All students approach all lessons with a positive mindset
Technology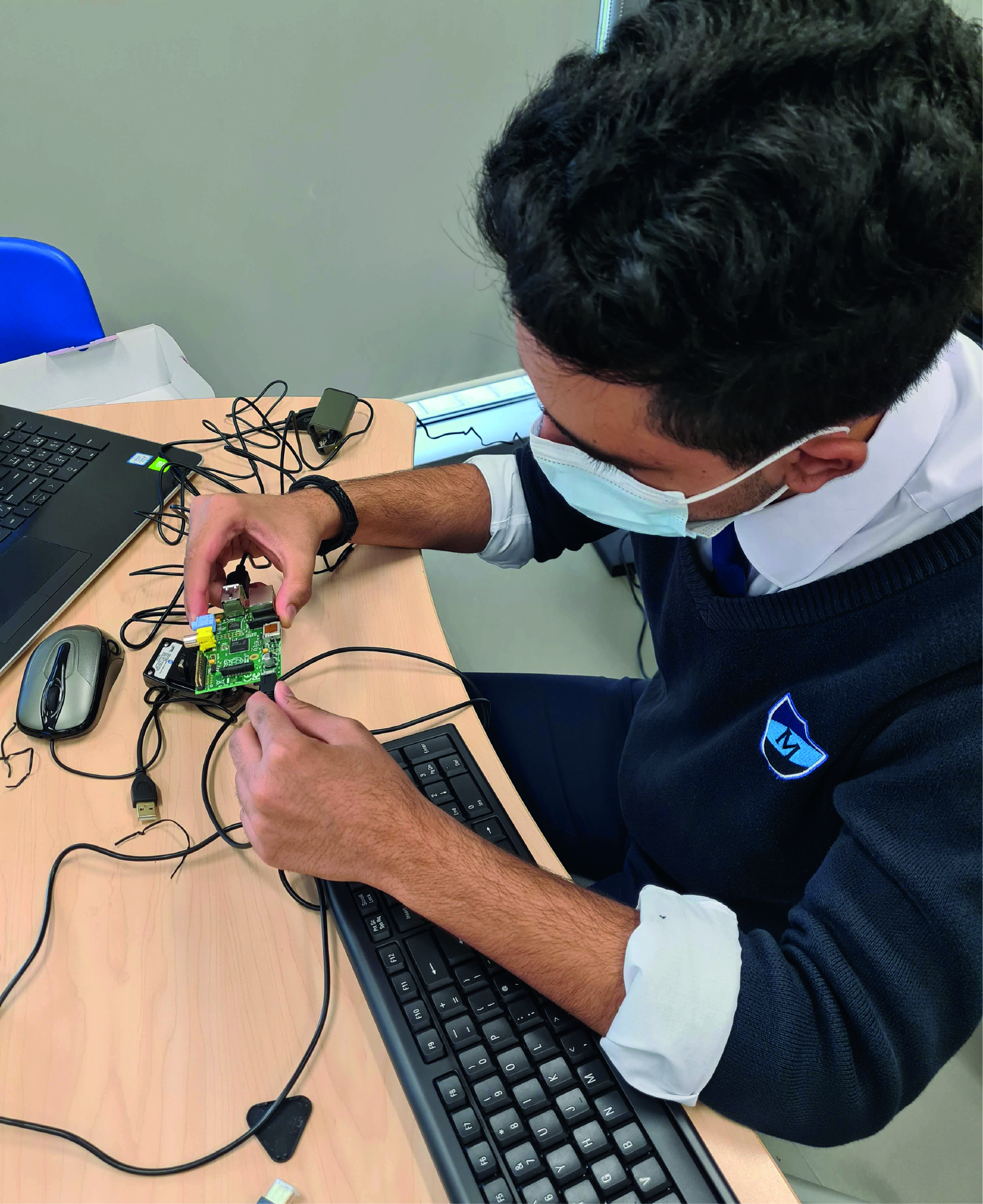 Computing has many links with other disciplines and provides insights into both natural and artificial systems. It ensures that our students become digitally literate and are able to use and express themselves whilst developing ideas through the use of tools used within both subjects as active participants in a digital world.
Within the Computer Science and ICT department our students are taught the principles of information and computation. They explore how digital systems that are used in everyday lives work and use this knowledge to code real life programs. Students are equipped to use Information Technology to prepare them for their future careers.
The curriculum we offer is tailored to meet the needs of our students. It is designed to be broad and balanced, providing students with the opportunity to deepen their knowledge, master their learning and give them a sense of purpose to why they learn about computing.
Preparing our students for life outside of school means encouraging them to develop a greater understanding of technology and the technological advancements around them. This ensures that students work, socialise and use the internet productively and safely.
We expect all our students to be equipped with a fully charged device in all lessons, using resources provided to them to further develop their knowledge and to take an active approach to learning and exploring outside of the classroom. All students should expand their curiosity of technology and develop a passion for our subjects
Within the foundation and infant schools there are many opportunities for young children to use technology to solve problems and produce creative outcomes. Young children take part in a variety of tasks with digital devices, such as giving commands to a robot, taking photos and recording their achievements, using applications to aid with language and social growth as well as motor skills and cognitive development. The activities are presented to the students through occasions to play and explore, such as role
play areas and enhanced provision. Older infant school students will use their devices to aid with classwork and to allow them to choose how they present work and ideas through a range of appropriate platforms.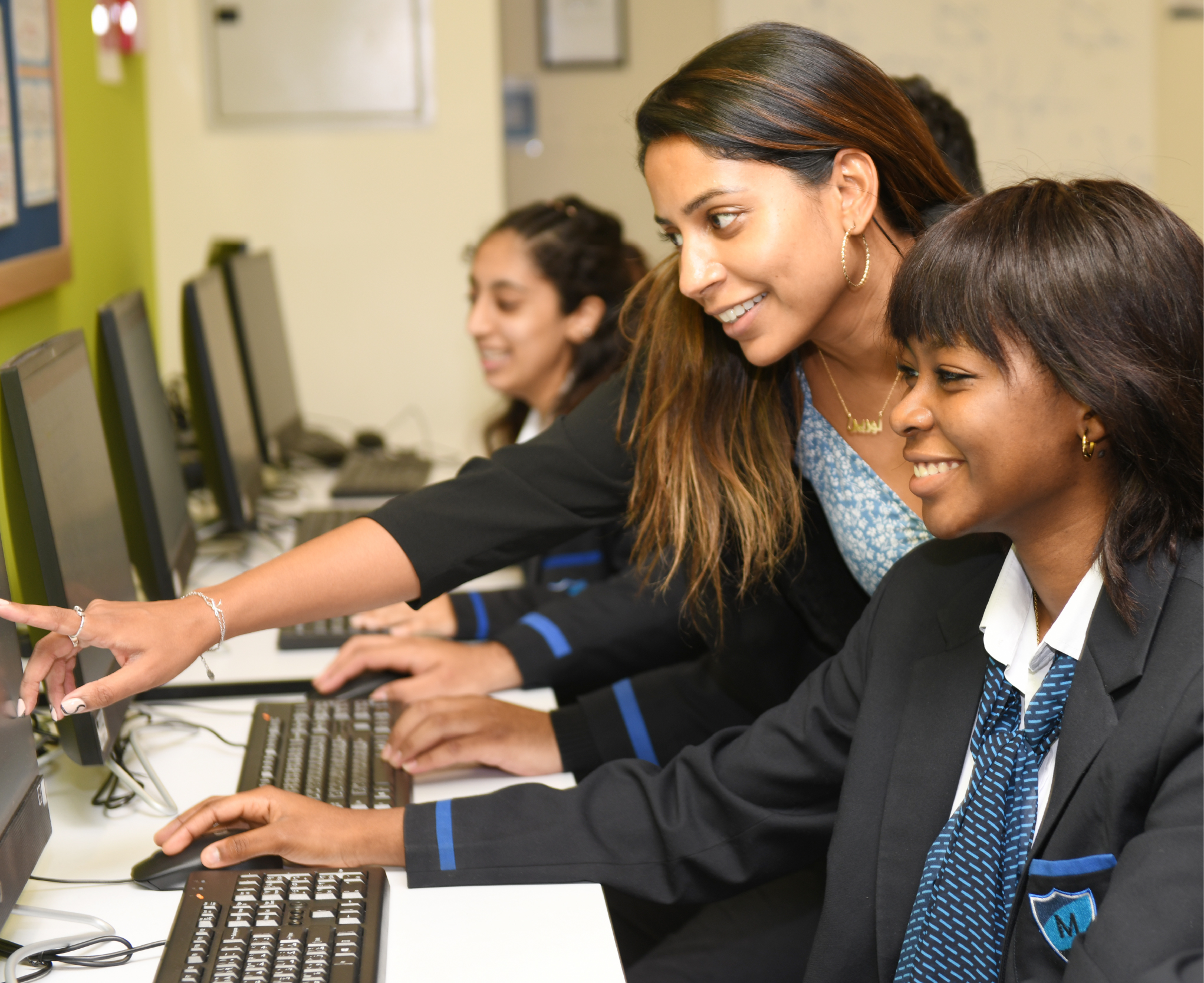 Within the junior school, students are provided with a wide scope of platforms, topics and medias. Students will be given the opportunity to:
Explore e-safety concerns in collaboration with presentation skills
Understand block coding with a progression to python
Develop multimedia content creation and editing such as bloggs, vlogs and podcasts
Engage with green screen technology
Create virtual and augmented reality environments
Build robotics and assign associated coding
Create website designs
Use Apple iWork applications for presentations, spreadsheets and document design
Our curriculum for Prep school includes a range of different topics
Apple photo editing and video editing
E-Safety
Microbit programming
Pixilart
HTML Design and creation
Databases
App creation
Our curriculum for Senior school follows the Edexcel Exam board for International GCSE ICT and Computer Science for Years 10 and 11 and International A Level ICT and AQA for A Level Computer Science for Years 12 and 13.
Infant school
We provide every child with the opportunity to become happy, fluent readers. The MTS Phonics Scheme offers a coherently planned sequence of lessons that supports the effective teaching of phonics within EYFS, KS1 and, where appropriate, KS2.
Throughout Phase 1, young learners develop the knowledge, skills and understanding to discriminate between and use auditory, environmental and instrumental sounds. Phase 1 is taught in FS1 at GEMS Metropole and runs throughout the teaching of Phonics Sets 1-5. In FS2, children work within Set 1-3. Here, learners are introduced to phonemes/sounds and graphemes/letters systematically. They also learn to develop and apply blending and segmenting skills for reading and writing.
In KS1, children work within Sets 4 and 5. The coherently planned sequence of lessons within Set 4 allows opportunities for children to apply their phonics knowledge and skills as the prime approach to reading and spelling. It focuses on phonetically decodable two-syllable and three-syllable words and the alternative ways of pronouncing and representing the long vowel phonemes. Furthermore, children will develop their ability to attempt to read and spell increasingly complex words. By Set 5, children explore spelling patterns and grammar while also developing a breadth of knowledge, skills and understanding in the recognition and spelling of common exception words.
The MTS Phonics Scheme intends to not only provide children with opportunities to develop the knowledge, skills and understanding essential for reading and writing, but also, to develop each child's confidence, resilience and engagement in phonics lessons and a love for reading and writing.
Junior School
We provide the opportunity for students to strengthen their skills as writers using the Talk for Writing approach. This enables students to internalise a text through oral rehearsal to support higher writing outcomes. In addition, our writing curriculum focuses on spelling and transcription, vocabulary, grammar, punctuation, handwriting and composition. Students also develop through our reading curriculum, which focuses on word reading and comprehension. Each student is encouraged to maintain positive attitudes towards reading and to demonstrate an understanding of what they read through the reading strategies. Reading lessons are taught as a whole class providing ample opportunities for students to practice the skill of reading aloud fluently with intonation that shows understanding and developing their verbal reasoning skills to aid
Prep School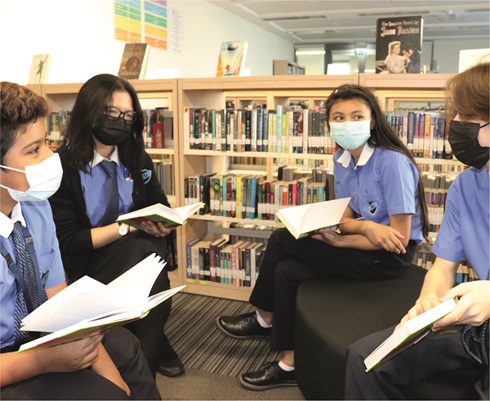 When students arrive in Year 7, they can already demonstrate a range of reading, writing and speaking skills. Therefore, they start to develop further through age and stage appropriate themes and challenges. In Year 7, the topics students' study is varied: they read classic literature such as A Christmas Carol, by Charle Dickens; they develop their reading and writing skills through studying the genre of Murder Mystery; and, at the end of the year, they do a project replicating 'Dragon's Den', a TV programme for budding entrepreneurs in which they pitch a project to millionaires in the hope to gain investment. In Year 8, students become much more aware of the world around them. They focus on social and global issues, such as technology and the impact of social media, as well as developing their reading and writing skills through the study of travel writing.
This is the year that we introduce them to William Shakespeare, both as playwright and poet. In Year 9, their awareness of the world around them continues with an exploration of problems affecting the environment – plastic pollution – and ways that communication can influence change. They will study more complex narratives and social commentaries through fiction: this will include the study of Animal Farm by George Orwell and the genre of Dystopian literature. Our aim is for them to be ready for the more complex texts at KS4. In addition, every week, in KS3, students will have a reading for pleasure lesson in which they choose their own texts so that they read broadly, to challenge themselves, and make judicious text choices in collaboration with their teacher and peers.
Senior School
Years 10 and 11 are IGCSE examination preparation years. We have two clear pathways to academic excellent, depending on ability: some students may sit IGCSE English as a Second Language at the end of their two years while some students will sit IGCSE English as a First Language and IGCSE in English Literature.
In Year 12 students can choose to follow their passion for reading and study A Level English Literature. We are looking forward to introducing A Level English Language from September 2022.
Extra-Curricular Activities
There are a range of exciting activities for students to pursue as an addition to the curriculum. These include:
MTS Talks
Debate Mate
Books Clubs
Emirates Literature Festival Competition Readers' Group
Emirate Literature Festival Competition Writers' Group
Spelling Bee
World Book Day Events
Subject Expectations:

Students are expected to be learners and to take ownership of their learning
They should read every day, for a minimum of 20 minutes
Students must take pride in the presentation of their work, writing neatly and cursively
We expect them become diligent proof readers
So that their academic excellence is clear, we envisage they take both IGCSE English as a First Language and IGCSE Literature if academically able; this is assessed by their teachers due to end of KS3 results
Art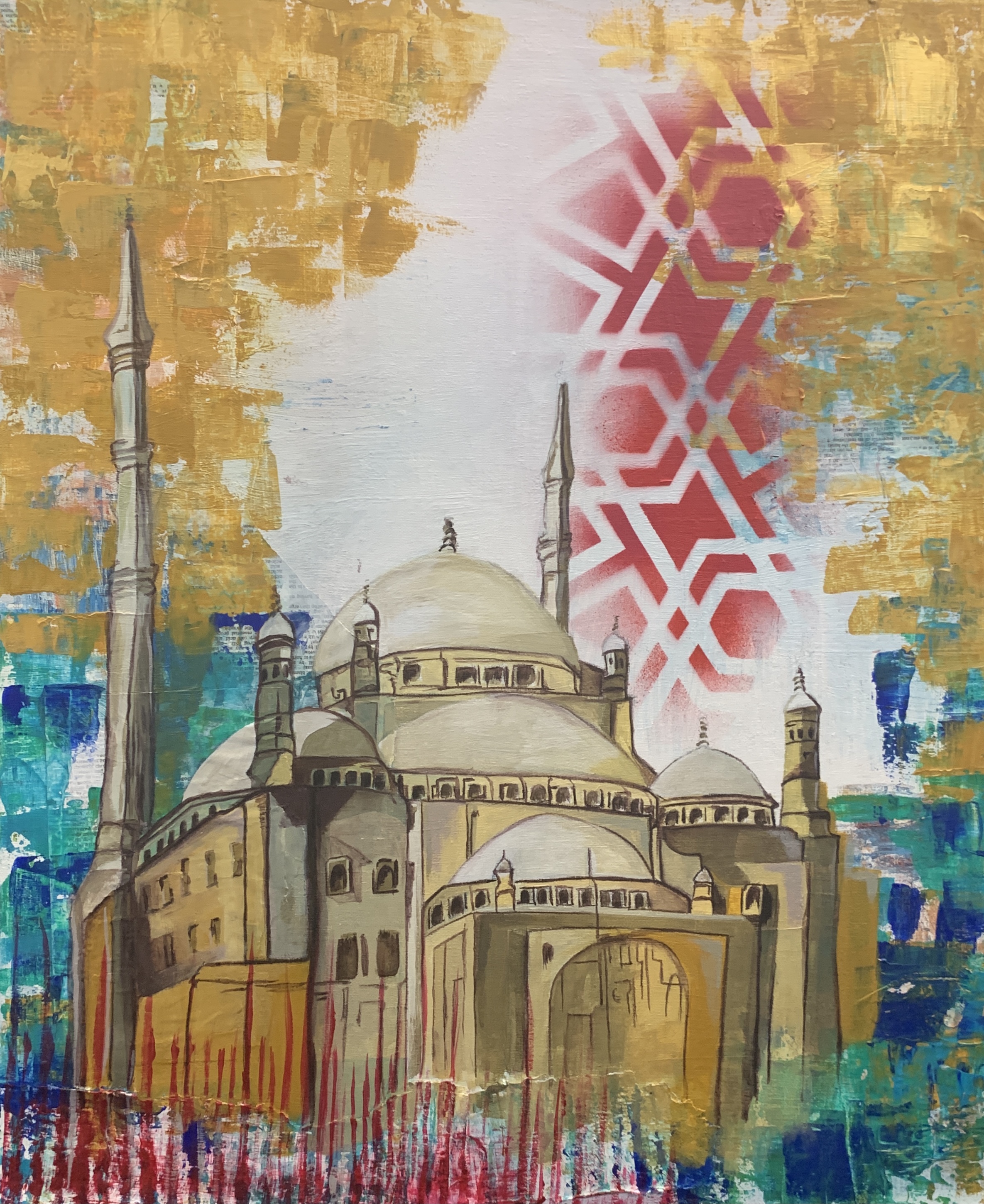 Art is an extremely popular and successful subject at MTS. The Art Department is staffed by specialised art teachers and supported by a full-time technician. We are uniquely placed to enable students to develop their skills, initiative and imagination through creative exploration.
Art, craft and design provide pupils with the opportunity to experiment, invent and create their own works. A high quality art and design education should engage, inspire and challenge pupils. At MTS, we believe that art plays a positive role in the support and development of children so we aim to nurture children's abilities to be creative and take risks. We promote critical and reflective thinking and provide pupils with the confidence and skills to produce their own works of art as well as other artists, craft workers and designers.
Here, at Metropole, our art and design is planned and taught through a cross curricular approach while covering a progression of Key Skills from Year 3 to Year 6. This provides a meaningful curriculum, capturing the interests of the children, promoting a greater pupil involvement, and making learning relevant to them whilst meeting the National Curriculum requirements.
Key Stage 2
Pupils will be taught to develop their techniques, including their control and their use of materials, with creativity, experimentation and an increasing awareness of different kinds of art, craft and design. They also broaden their knowledge about great artists, architects and designers in history.
Key Stage 3
Year 7
The emphasis on students' experience of Art through Year 7 is to gain knowledge, understanding, skills and techniques inspired by the work of artists and cultures. Through project work, students are given a wide experience of making art in a variety of mediums that include painting, drawing, print and sculpture. Year 7 will be looking at the themes of Portraits and Landscapes this academic year.
Year 8
Students in Year 8 is to build upon knowledge, understanding, skills and techniques gained throughout Year 7. Students continue to develop an appreciation of the work of artists/ designers and understand the role of artwork from a range of cultures. Through project work students experience making art in a variety of mediums that include painting, drawing, printing and sculpture. Year 8 will be looking at the themes of Surrealism and masks from around the world this academic year.
Year 9
Year 9 students will build on their experience and knowledge they have gained in Year 8, and will progress to more in depth projects. They will explore new materials and subjects as well as developing their drawing skills. Students will gain advance their skills in painting, drawing, sculpture, printmaking and linking their work to the work of others. Projects are designed to fit more closely with the GCSE requirements to promote a smoother transition from KS3 to KS4. Year 9 will be looking at the themes of Pop Art and explore observational drawing in more detail this academic year.
Key Stage 4
In Art, Craft and Design GCSE students will explore ideas, experiences and respond to a theme or issue of personal significance. They will look at different approaches to art and use a variety of different media, techniques and materials including drawing, painting, sculpture, graphics and mixed media. In Art students will explore their imaginative, experimental side in their creative outcomes while gaining a knowledge of Art history as they research and analyse artworks.
As a coursework-based subject, students will gain valuable time management skills and the subject can balance the pressure of revision-based subjects.
An Art, Craft and Design GCSE can be a gateway into many creative careers including graphic design, architecture, animation, illustration and museum/gallery curation.
Click here to access the link to specification:
Key Stage 5
The broad-based Art, Craft and Design title will enable students to explore a range of two-dimensional, three-dimensional or time-based approaches to their studies. They draw inspiration from images, compositions, forms and ideas outside of their own discipline. They work frequently in multi-disciplinary and cross- disciplinary ways, breaking traditional boundaries to create works of art, craft and design that combine ideas, concepts and materials in new ways.
For Component 1: Personal Investigation, students must work in at least two disciplines, drawn from different endorsed titles.
For Component 2: Externally Set Assignment, students may choose to produce work in one or more disciplines.
Useful websites:
Mathematics
At Metropole, we pride ourselves in developing our students mathematical and problem-solving skills. We deliver a mastery curriculum across the Primary and Secondary phase, which enables our students to study topics in depth, therefore securing the knowledge needed to be successful throughout their academic journey. Students are taught through engaging real-life scenarios, which ensures every child enjoys and is passionate about mathematics.
Key Stage 1: Year 1 and 2
Students will be engaged by a master curriculum covering the following areas; Units of Study include;
Number – Place value, Addition and subtraction, Multiplication and Division, Fractions

Geometry – Shape, Position and Direction

Measurement - Length and Height, Weight and Volume, Money, Time
Key Stage 2 : Years 3, 4, 5 and 6
In Years 3,4,5 and 6, students build on the knowledge gained in KS1 through a mastery curriculum. Units of Study include;
Number (Place Value, Addition and subtraction, Multiplication and division, Fractions, Decimals and Percentages, Algebra and Ratio (year 6))

Measurement (Money, Length and Perimeter, Time, Mass and Capacity, Area, Properties of Shape, Position and Direction, Converting Units, Volume)

Statistics

Geometry (Properties of Shape)
Key Stage 3: Years 7 and 8
In Years 7 and 8, students develop the skills and knowledge learnt at KS2 through a mastery curriculum.
Units of study in Year 7 include:
Algebraic thinking', a unit which introduces students to algebraic methods and notation

Place value and proportion', a unit which enables students to explore the equivalence of fractions, decimals and percentages

Lines and Angles', a unit which enables students to develop their geometric reasoning

Reasoning with number', a unit which introduces students to sets and proof.
Units of study in Year 8 include:
Proportional reasoning', a unit which explores the links between ratio and proportion

Developing number', a unit which introduces students to standard form

Reasoning with data', a unit which enables students to explore the data handling cycle through collecting and analysing data of their own.
Key Stage 4: Years 9, 10 and 11
In Years 9, 10 and 11, students prepare for the International GCSE in Mathematics. This is done through a range of engaging platforms, such as Desmos, an online graphing tool, and websites such as Hegarty Maths, which provides students with videos and instant feedback to questions they have answered. The IGCSE is assessed externally at the end of Year 11 through two calculator papers.
Students in Year 9 study a range of topics including:
Pythagoras and Trigonometry

Simultaneous equations

Quadratic equations

Real life graphs

Transformations.
Students in Year 10 study a range of topics including:
Parallel and perpendicular lines

Surds and indices

Sequences and series

Circle theorems

Further trigonometry.
Students in Year 11 study:
Vectors
Algebraic fractions
Calculus
Graphs and their transformations
Exam preparation.
Key Stage 5: Years 12 and 13
In Year 12, students can opt to study the International A Level. This is a two-year course which consists of 6 examinations across both Year 12 and 13. During this course, students will further develop their understanding and knowledge of key mathematical concepts, such as:
Functions

Trigonometry

Calculus

Mechanics

Statistics
Due to the complexity of the course, students are required to have achieved at least a grade 7 in their Mathematics IGCSE.
Subject expectations
All secondary students are expected to bring all mathematical equipment with them to lessons, including a graphical calculator.

All secondary students are expected to be fluent in multiplication tables.